Below is the obituary for Charles William Jousiffe as reported in The Sporting Life of Friday February 27th 1891. I thought that it was worth including the whole piece as I think it makes interesting reading.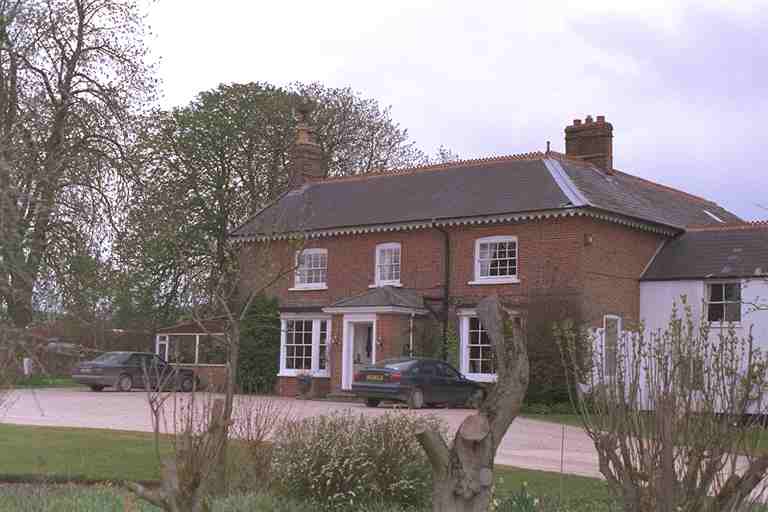 Seven Barrows Farm, in the 1990s
It is with the greatest regret that we have to report the death of Charles William Jousiffe, who expired at Seven Barrows about noon yesterday. The details of his illness have been given from time to time, and like many another good man and true, he has been killed by this most unkind winter. About ten days ago his brother, Mr. Sidney Jousiffe called at our office with the welcome news that Charles had passed through the crisis, and it was hoped that all would go well with him and that he would regain his usual health before the flat-racing season commenced. However he had a relapse and died as above mentioned. We believe he has only one child, a daughter, who should be about fourteen years old now, and we take the opportunity to condole with his pleasant wife and all his relations. The telegram that announced the sad news was from Mr. Sidney Jousiffe, and sent to "AUGUS "it read-" My dear brother Charles passed away peacefully at noon. The funeral will take place on Monday at three pm at Lambourne Church. Friends will kindly accept this intimation". We quote Mr. Jousiffe's biography from our paper of Saturday, February 25th, 1883, when our representative made a special visit to Seven Barrows, and reached there safely enough when snow prohibited anything but the exercise of "Shank's Pony ".
Charles William Jousiffe to proceed in the orthodox manner, was born at Herne Bay, the well known seaside resort, in Kent, in 1845, and being ambitious to become a jockey, was apprenticed to Mr. James Thirkell, he had a few horses at Epsom. He did not remain there more than about 18 months, when he proceeded north, his indentures having been made over to the ate Mr. Osborne of Ashgill. When Jousiffe who's indentures where made out in the name of 'Joseph' started at Epsom he weighed about 5st though since he has turned the beam at l6st 4lb. At Ashgill he looked after and rode Rapparee at exercise, and when Lord St Vincent leased the horse, as a favour Osborne allowed Jousiffe to go with him to Telacombe where he remained six months, and then returned to Middleham. The stable was then rich in lightweights. Chaloner and Harry Grimshaw getting therefore most of the public riding, though Jousiffe rode Paddy Q'Rourke for the Portugal plate, won by Queen of Trumps in 1862, and also had a mount on York Minster in Hartington' s Cesarewitch. He now scaled at 6st 2lbs but an opportunity offered to go to Belgium and ride for Mr. Marsden, who had picked up some horses in England for exportation there. On a horse called Leopold son of Hospodar and other horses, Jousiffe won their races at Brussels, Ghent, Mons, So. He returned to England in 1864 when racing was over for the season in Belgium, and shortly afterwards accepted an engagement to ride in India. At this time his weight was 7st 81b, and he rode and trained in various parts of our great dependency with success. The subject of our notice continued to put on weight, and it was only by great self-denial and perseverance that he managed to keep to racing weight, as in the ordinary way he scaled 10st l2lb. From Madrass he returned to Bengal in 1867 and just about this time Jousiffe was busy indeed at the Calcutta Meetings at which he rode and trained many winners in the Calcutta Derby, for Arabs he was particularly successful in 1867 riding and training Saladin who finished second, whilst in the succeeding year he steered the winner Actoon. At the same time gathering in addition to his success in the chief event he was well to the for in the others, in all riding and training thirteen winners out of twenty four races in the program.
In 1869 he made a flying visit to the old country but quickly returned taking with him R Chaloner - brother of the late Tom of that ilk - to ride for him. Jousiffe was now putting on flesh fast, and weighed l2st 7lb on his arrival in India, but he managed to reduce himself, and rode at 9st 11lb in the Sonapore Cup at the Sonapore Meeting. He the gave up riding for a time, but for a bet of 500 rupees (50 pounds), at Bangalore he reduced himself from l2st 11lb to l0st 3lb and rode at that weight in 1873, but the experiment was not a success, and that was Jousiffe 's last appearance in public in the saddle. R. Chaloner rode and won races on many horses trained by him, but he could not stand the climate, and died in May 1872. After being eleven years in India Jousiffe came back to the old country in 1875, and though that had not been his original intention, he finally resolved to stop in England, and purchasing one or two horses started a small stable in Lambourne. He won several races with Chancellor, and in the year 1877 acquired the post of private trainer to Mr Bird and Lord Kesteven, when he took up his quarters at Seven Barrows. Several races fell to his share, and amongst some of his early winners may be named Woodquest Flame, Gwendoline, and the Ghost Jousiffe commence training for Mr H. Barclay in December 1881 and his first success for that gentleman was with Condore II. Other winners can be mentioned in Kinbolton, Polariscope, Glasgow, Playful, Criterion and Playfair but we must haste along and come to the other theme of our sketch.
Bendigo came to Seven Barrows very early in July 1881, and like many other famous racehorses he went for almost a song as a youngster. He was bred by Mr M Taylor in Ireland in 1880, and was sold to Mr T. Connoll for 70 guineas at the sale of Mr Taylor's horses at the Curragh at the close of 1882. He had plenty of time to mature and Mr Barclay was fortunate enough to secure him for 850 guineas at the Curragh September Meeting in 1883 and he was trained by French at Newmarket. His first appearance in public was in the Cesarewttch that season and burdened with 6st 2lb he ran prominently to the Bushes. He was not much fancied for the Cambridgeshire, for which Medions was all the rage, and started at 50 to 1. In this race his weight was 6st l0lb and he won by a neck from Touans (5yrs 7st 2lb) while Medions with 6st 6lb on his four year old back could only get third. He went quickly up in the handicap scale and carried 8st 1 llb for the Liverpool Autumn Cup, but the task set him proved too much, and he was unplaced to Boswell (5yrs 6st 3lb) Touans (5yrs 8st l2lb) and Springbok (3yrs 6st l2lb). As previously mentioned Bendigo passed into the care of Jousiffe in the succeeding July when he arrived at Lambourne being accompanied by Glasgow, Benmore and two others belonging to Mr Barclay. He came to Severn Barrows with the reputation of being a roarer and having a bowed tendon but the Lamboume air evidently agreed with him. His first outing as a four year old was at Goodwood when with 8st 51b he was unplaced to Sweetbread (5yrs 9st 31b) Duke of Richmond (3yrs 8st l0lb) and Ishah (3yrs 6st 11lb). His most easy was in the Cambridgeshire when ridden by Snowden he was defeated by a head by Florence who carried 9st 11lb to Bendigo's 8st 21b, Pizarro with Luke in the saddle finishing a bad third. In the Chelwynd Plate at the Leicester Autumn meeting he was unplaced with 8st 4lb to Energy (the same age) who carried l0st, Whitelock 3yrs being second and Despair (5yrs 9st 21b) third. This was his last appearance in 1884 but he came out in grand form the following year. At Lincoln he was favourite for the chief handicap though weighted at 8st 5lb and the son of Bem Baffle won by half a length from Bird of Freedom, Mr Tidys three year old colt carrying 6st 11lb with MacMahon for whom 6lb was put up to secure Woods services finishing third with 7st 7lb. The rich Hardwickes Stakes at Ascot proved an easy prey for Mr Barclays colt who carried 9st l2lb, Willie Darling (3yrs 7st 7lb) second, and Grafton (3yrs 7st l2lb) third. The Cambridgeshire again saw Bendigo well to the fore, though in the preceding season the Lambourne Wonder had to put up with the tantalizing position of second. This time Bendigo was on the 9st 81b mark, and was ridden by Archer, but he was wonderfully well just then and his defeat was somewhat of a disappointment to those connected with him. St.Gatien though carrying a couple of pounds more than Bendigo was in demand starting at 2 to 1 but as will be remembered Plaisa---- followed up her Cambridgeshire success with the unprecedented weight for a three year old filly of 8st 1 2lb, Eastern Emperor who was third and ridden by Martin carried 7st 5lb. Bendigo then had a rest and underwent special preparation for the Eclipse Stakes - the first of the rich stakes at Sandown Park Meeting in July, and the rich prize was added to Mr Barclays account in the most handsome fashion, the Irish bred colt caning 9st 7lb with Candlemass 3yrs 8st 7lb second and St.Gatien 5yrs 9st lOlb third.
Jousiffe had some trouble with Bendigo in the autumn a hind leg being said to be the seat of the mischief, and the early birds who rushed on the horse for the Cesarewitch and Cambridgeshire burnt their fingers. For the event at the Houghton Meeting he was first favourite before the mishap, though he had to carry the welter of 9st 91b. It was found impossible to get him to the post in anything like his old form and he was struck out of both races on October 16th. For the Jubilee Stakes at Kempton Park he was then specially trained in which he scored another sensational success. For this he was handicapped at 9st lOlb and it was feared that bend would be all against him in a large field. Now he triumphantly passed through the ordeal is now a matter of history and the reception awarded the gallant Bendigo was of the most enthusiastic order. "AUGUR' 5" short description of the race reads - it was not until past f--- that a resonant roar announced that the start had been effected, and all got away on very fair terms. The Tuba colt soon done with, taking his tiny pilot out of the course, but up to the bend the rest were in pretty close order, Tyrone and Martleys jackets being the most conspicuous while Bendigo was seen to be going well within himself Harpenden, Vermillion and Fullerton held good places but just before reaching the distance shouts were raised in tern for Martley and Tyrone and it looked as if Watts would have some little difficulty in getting through. Fortunately an opening occurred when Harpenden & Vermillion gave way, and Watts instantly brought up Bendigo who quickly passed Tyrone & Matley and reached the judges box three-quarters of a length in front of the last mentioned who only secured the 200 sovs for second by a head to Tyrone. Matley was carrying 6st l2lb and Tyrone 7st 91b whilst Fullerton with 8st was fourth. He next appeared at Ascot and hardly appeared to have recovered from his severe race at Sunbury. He could only make a dead heat for third place with Aintree to Minting and St Mirin in the Jubilee Cup, and later in the week finished third to Ormonde and Minting in the Hardwicke Stake he then made his second essay in the Cesarewitch though he carried a very different weight this time to when he was a three year old being tasked to gat home 9st 7lbs over the severe two miles and a quarter. But for the presence of a very good three year old in Homewood he would have accomplished the feat, but two days later he made amends for this defeat striding away with the Champion Stake from St. Mirins ,Kir--.--.-- and Cataraet. Bendigo wound up his racing career where he first won renown, and a brilliant finale it was indeed. This time his weight had been raised to 9st l3lb and the Ashgill veteran John Osborne had the ride. It was always the unlucky position of the rider of the second horse to come in for a certain amount of unfavourable criticism and many hold the opinion that if Osborne had brought Bendigo a bit earlier Gloriation would not have been returned the winner of the Cambridgeshire. But of course that can only remain a matter of opinion, but taken from any point of view it was a great feat and the curtain on Bendigo's racing career was run down to a most effective racing tableau. Mr Barclay subsequently decided to send him to stud. Though only half a dozen races fell to his lot, his aggregate winnings 30,104 pounds and l5 shillings. The six events referred to are the Cambridgeshire of 1883, Lincolnshire Handicap, Hardwicke stakes, Eclipse Stakes, Kempton Jubilee Stakes and the Champion Stakes and the total given above it must be remembered does not include the amounts received for being placed.
Of late Jousiffe has had many good horses under his care, amongst them being the uncertain tempered Surefoot who after winning the Two Thousand last year failed to hold his own in the Derby. Deuce of Clubs and Maxim have also done well for Severn Barrows and we hear that many of the youngsters so lately under poor Jousiffe's charge show great promise. This is a matter we could enlarge upon but space is short just now.
From The Sporting Life Friday February 27th 1891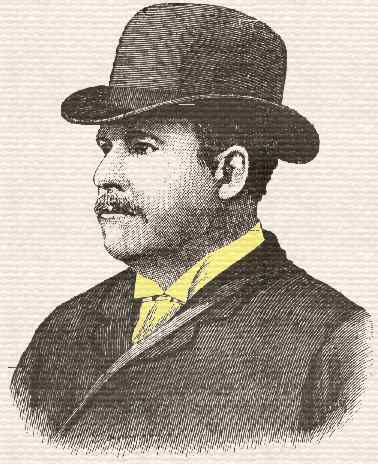 1 Charles William (Joseph) Jousiffe 1845 - 1891
. +Mary Fanny Bradford 1841 -
..... 2 Ethel Mary Jousiffe 1878 - 1935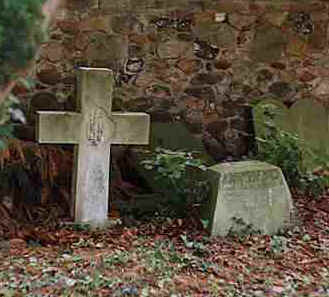 The graves of Charles William (right) and his sister
Charlotte Lawson Jousiffe
St Michael and All Angels, Lambourne, Berkshire