My Gran, Lily, always said that there were race horse owners in the family and wealthy relatives 'south of the river'. At first I dismissed this as 'fiction' however after more research a second tree started to be formed out of the data that Kay and I had collected. This showed a family descended from Francis Joseph a school teacher in 1838 when his son Charles Joseph Jousiffe married Charlotte Smith Filor in Paddington.
The children of Charles and Charlotte were born with the name Joseph, however, by the time they had reached adulthood all had changed their names to Jousiffe; why?
The wine merchants in the family were George and Sydney, while Charles pursued a career in horse racing.
Follow the links to their own parts of the story.
We have been unable to link this tree with ours, however, the fact that the name is so rare and Lily's stories of going 'south' to visit wealthy relatives, lead us to believe that there must be a link somewhere, well we hope so.
Note. Generations are numbered 1-3 and + = married.
1 Francis Joseph
..... 2 Charles Joseph (Joseph) Jousiffe 1809 -
......... +Charlotte Smith Filor 1811 - 1880
............. 3 Charlotte Lawson Joseph Jousiffe 1840 - 1885
............. 3 George Richard Joseph Jousiffe 1844 - 1923
(Wine Merchant)
................. +Fanny Elizabeth Walters
..................... 4 Mary Maud Jousiffe 1866 - 1870
..................... 4 Charles Fetherston Jousiffe 1867 - 1890
..................... 4 George William Jousiffe 1869 -1870
............. *2nd Wife of George Richard Jousiffe:
................. +Emmeline Wilhelmina Anderson 1859 -
..................... 4 Emmeline Wilhelmina Jousiffe 1881 -
..................... 4 George Richard Jousiffe 1883 -
..................... 4 Frederick Sydney Jousiffe 1885 - 1886
..................... 4 Arthur Jousiffe 1887 - 1917
(died in WW1)
............. 3 Charles William Joseph Jousiffe 1845 - 1891
(Jockey and Race Horse Trainer)
................. +Mary Fanny Bradford 1841 -
..................... 4 Ethel Mary Jousiffe 1878 - 1935
.................3 Frances Elizabeth (Jousiffe) Joseph 1846 - 1917
.. ..............+Walter Alexander Pole-Hore 1843 - 1923
..................... 4 Elizabeth Pole-Hore 1868 -
..................... 4 Edith Pole-Hore 1870 -
..................... 4 Henry Pole-Hore 1875 -
..................... 4 Florence Pole-Hore 1877 -
..................... 4 Victor Pole-Hore 1880 -
..................... 4 Dora Pole-Hore 1883 -
..................... +Arthur Edward Bodycote 1880 - 1958
..................... 4 Ismay Pole-Hore 1885 -
............. 3 Sydney Lawrence Joseph Jousiffe 1851 - 1923
(Wine Merchant)
................. +Kate Elizabeth Cairn 1850 - 1939
..................... 4 Kathleen Lily Jousiffe 1874 -
......................... +Walter (Henry) Bishop
............................. 5 Joyce Bishop
............................. 5 Lawrence Walter Bishop
............................. 5 Peter Bishop
..................... 4 Frances Charlotte Jousiffe 1877 -
..................... 4 Sydney Theobold Jousiffe 1878 -
..................... 4 Florence Phillipa Jousiffe 1880 -
......................... +Sydney M Pizzey
............................. 5 John Blakeney Pizzey
............................. 5 Mollie B Pizzey
..................... 4 Edwin Charles Jousiffe 1884 - 1916 (died in WW1)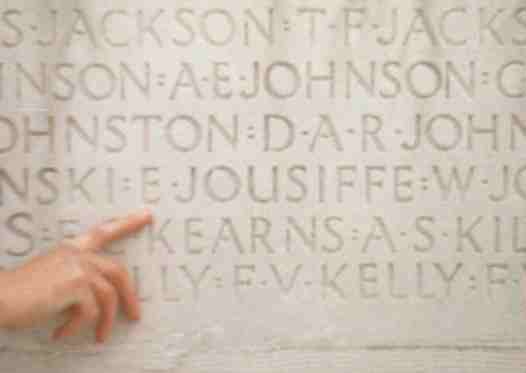 Vimy Ridge Memorial